2012 Calendar
from Indoor-Gardener.com
Plus Houseplant Identification
and Your Month-by-Month To-Do List
for Healthy, Happy House Plants!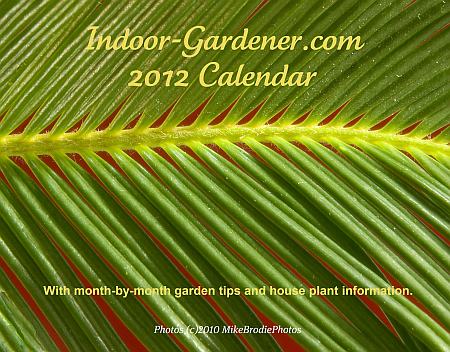 The 2012 Calendar from
Indoor-Gardener.com
is now available!


Do you love house plants? Do you know someone else who loves greenery inside?
The 2012 Calendar from Indoor-Gardener.com is the perfect gift for yourself or others.
Each page features a different photo by friend and professional photographer Mike Brodie. In addition to the images and the identification of the plants are easy to follow monthly to-do lists to keep your indoor garden healthy and happy.
The plants featured on these pages are from my own Indoor Garden, and were pleased to pose for you! From spider to umbrella; from palms to ferns; from delicate to sturdy - here's a view into my own indoor garden.
Some of the photos are at a distance to give you a sense of the shape and color of the entire plant. Others were taken at close-up range to feature a particular bend of a branch, or the reflection of light off a leaf, or the interesting motion or stillness of a houseplant moment.
Mike and I worked together to bring you 12 months of images we think you'll love.
And each month has simple instructions on how to care for your plants based on the seasons in the Northern Hemisphere. It includes when to increase or decrease watering and fertilizing; when to search for indoor garden pests; and when to start your holiday gift planting - and your spring bulbs.
In addition, each calendar page has day by day boxes large enough to hold notes, birthday reminders, and/or appointments -- the old-fashioned way! (I know I prefer these visual reminders to the beeping of my digital apps!)




Return from 2012 Calendar from Indoor Gardener.com
to our Home Page.