Chia Herb Garden
Sprout Chia Seeds and Other Herbs
in a Terracotta Chia Pet

Creating a Chia Herb Garden is easy for an indoor gardener. With a little attention, herbs or chia seeds, and a "pet," you'll have herbs sprouting in a couple of days.
Lots of indoor gardeners collect Chia Pets®, which are animal- (or people-) shaped terracotta sprouting vessels.
Originally, they came from Mexico but were adapted in the 1980s by Joseph Enterprises, Inc., a California-based company.
Now you can find the sprouters in shapes from donkeys and gators to cartoon characters and U.S. Presidents.
As the seeds sprout, the planters grow hair or fur, making them quite decorative and a lot of fun for both children and adults.
Once you've chosen your pet, the next step in putting your herb garden together is to choose your seeds. Many varieties are available in anything from small packets to bulk orders.
Chia seeds have recently been touted as one of the most ancient "new" wonder foods. They're full of:
Vitamins: especially A, B, C, and E
Minerals: especially Calcium, Iron, Magnesium, Phosphorous, and Potassium
Essential Amino Acids
Protein (about 20-25%)
Antioxidants
...all in each tiny seed! Tarahumara distance runners are known to go a full day on a small handful. They're gluten-free and studies have shown them to be good for diabetics.
You can also sprout other seeds, the mucilaginous varieties best for sticking to the terracotta.
Be careful of alfalfa and clover sprouts, though. Click here to read the 2009 FDA-issued warning about these seeds containing e-coli and salmonella. If you do sprout these, it's recommended that you cook them.


---
Click here to read our Disclosure Statement.
Click the image to ORDER and get more information
---


Growing Your Chia Pet Herb Garden
With just
a few quick steps
, any indoor gardener can succeed at growing sprouts.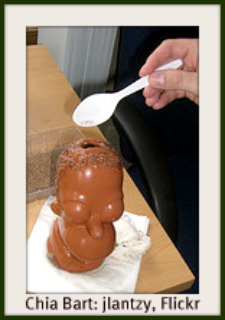 wet the terracotta planter


spread out the seeds evenly along the ridges


add water through the opening in the planter


if your home is dry, place a plastic bag or container loosely over the Pet until the sprouts begin, then remove it


keep the planter damp, but don't overwater


clean well between uses


To make life with a Chia Herb Garden even easier for the indoor gardener, kits with all the necessities - including instructions and an assortment of culinary herbs -- are available. These usually include small terracotta pots instead of the Pets, which do the job just as well. A common mix of herbs might include: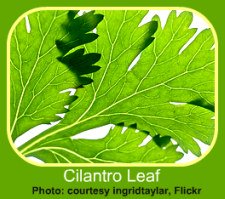 Basil
Chives
Cilantro
Dill
Marjoram
Parsley
Your Chia Herb Garden isn't just for you, either! If you have a cat (or dog or rabbit), she/he will adore you even more if you plant something special for your pet. Read more about Chia cat grass here.


---
---
Have You Tried Growing
a Chia Herb Garden?


Do you have a Chia Herb Garden? Have you ever tried to grow one? What kinds of seeds do you use? What kind of sprouter? Share your story with other visitors here.
Return from Chia Herb Garden to
Indoor Gardener Home Page.