Houseplant Questions
and Answers

You can use the form below to ask your houseplant questions. I'll do my best to answer within a day or two. If I don't know the answer, maybe another Indoor Gardener will. Or I'll search until I find the information you need.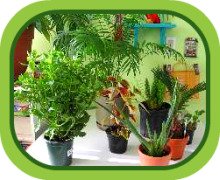 Feel free to include a photo - it may even end up as an illustration on one of Indoor-Gardener.com's pages! (With credit given to you, of course.)
I'll publish your questions and my answers after editing them for spelling, grammar, sequence, and sense. If you don't want your first name published, just let me know and you can sign it Anonymous.
For plant identification questions: There will soon be a separate form for this; in the meantime, you can send the photos using this form. I must admit, I'm not the best person on identifying houseplants from photographs, but I'll give it my best shot. Maybe another Indoor Gardener visiting the site will be able to help.
To ask your question, please fill out the form below And come back soon to read the answers! There are lots of new pages in the works, so please bookmark us or subscribe to the RSS feed by clicking on the orange RSS button at the top of the Navbar on the left. You don't have to use your email, and you'll be informed every time new info is added to the site!



Do You Have Questions
About Houseplants?

Here's your chance to ask your houseplant questions. Please share them with other visitors to Indoor-Gardener.com so we can all learn together and share information and expertise.

There are no dumb questions, so ask away!


What Other Indoor Gardeners Have Asked and Answered
Click below to see contributions from other Indoor Gardeners...




Return from Houseplant Questions to
Indoor Gardener Home Page




Home | Privacy Policy | Disclosure Statement | Legal Disclaimer
Sitemap | Ask Batya | About Batya