Cooking with Fresh Herbs
Share Your Fresh Herb Recipes

If you're an Indoor Gardener who enjoys cooking with fresh herbs, why not share your recipes with other visitors to this site?
It doesn't get much better than taking a clipping from your own indoor herb garden for those recipes using fresh herbs. And using your own plants adds to the taste - no doubt about it!
In addition to treating the taste buds, using home-grown greens is good for you. At 0 to about 5 calories, your clippings are tasty enough to replace or lower salt intake. They're full of antioxidants, too, as well as folic acid, manganese, calcium, iron, Vitamins A, C, B complex - to name just a few.
When you're using fresh herbs in a recipe, measure about three times more than you would of the dried, except for rosemary - use the same quantity. Remember to wash them first in running water, then shake, spin or pat them dry. They're best when cut with a sharp knife or scissor on a wood board; you can save the stems for soup. Rosemary and thyme require that you separate the leaves from the stem when cooking with fresh herbs.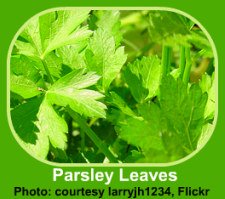 When using fresh herbs in recipes, add them toward the end of your cooking time, or just before serving. Dill seeds, oregano, tarragon and thyme are considered "tough" and can be added about 20 minutes before your food is ready. The exception is with baked goods - add herbs when the recipe states.
And don't forget to put a pretty cutting from your indoor herb garden on the plate for a garnish!
Gardening and cooking have gone hand-in-hand since the beginning of time. Whether you cook for one or one hundred, if you grow your own spices, please share your recipes using fresh herbs with us here. And add some photos if you have them!



Are You Cooking with Fresh Herbs?
Share Your Favorite Recipes


Do you have an indoor herb garden? Are you using the plants from it when you cook? What are your favorite recipes?

Other Indoor Gardeners would love to read your recipes, try them out, and share their own. Whether it's an herbal mix for a salad dressing, an interesting taste to a refreshing drink, a recipe for tomato sauce with herbs - or anything else - share your tasty favorites here.


Return from Cooking with Fresh Herbs
to Indoor Gardener Home Page