Garden Calendar - Winter
For the Indoor Gardener

The Winter Garden Calendar is designed to help the Indoor Gardener keep houseplants happy and healthy through the cold months.
As days grow shorter and sunlight weakens, many of your houseplants will take some time off and enter a more restful state.
You'll see very few new leaves, only a rare blossom, and a change in thirst and other care needs.
This doesn't mean you can ignore your indoor garden.
Take a look though the Winter Garden Calendar below to learn the kind of attention your green charges require to make it through the holiday season strong and ready to meet spring.
Remember that each month starts about 10 days back in the month before, and that the Indoor Garden Calendar is based on the Northern Hemisphere and at least some seasonal climate change.






It's holiday time, and the Indoor Garden Calendar is full of activities and preparation for the month!
Continue to water houseplants sparingly; no fertilizer


Gently sponge off dust from glossy-leaf plants


Dress up your houseplants for the holidays. Clean out the dried leaves, sprinkle a thin, fresh layer of topsoil (for looks only, so go lightly!), and tie some festive ribbon around planters. Add holiday figurines such as miniature reindeer to pots for a fun touch.



If you're forcing bulbs for early spring, continue the process. Any bulbs you're forcing for gifts for the holidays need special care at the beginning of the month. Watch for bugs and be careful not to over-water. Prepare how-to-care-for-this-plant cards so friends and family will know what to do to keep their gifts alive.


Also continue to provide extra humidity for your houseplants. An easy way to do this is to wet pebbles and keep them in a tray under the planters. An even easier way is to keep a container of water nearby.


Poinsettias, if you already have them, need to get about four hours of sunlight daily. Start this at the beginning of the month so they'll be in full glory for the holidays.


If you don't have a poinsettia - or any other plant you've been wanting - start dropping hints as soon after Thanksgiving as you can. Maybe Santa (or the Hanukkah or Kwanzaa helpers) will bring their favorite Indoor Gardener a growing gift.


Christmas cactus should be blooming. Review the special care it needs.


If you're planning a party where people might drink more than a glass or two, move plants out of harm's way beforehand. Spilled alcohol does not encourage growth; neither does a plant dropped on the floor. Houseplants are just not party animals.
---
advertisement
Click here or the image below to see more information
about Indoor-Gardener.com's 2012 Calendar
.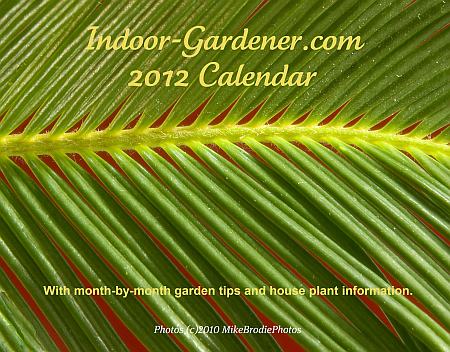 ---



Start off the New Year with new life!
This is a good time to put some seeds in soil. Not all houseplants can be grown this way, but you can try the following:

Begonia
Cacti
Coleus
Gloxinia
Succulents



Give your houseplants a spring cleaning - in the middle of winter. A light spray in the kitchen sink or shower will pep them up and clean the dust off. You can also gently wipe them with a damp cloth.



Heat dries the air in your home. Increase humidity for your indoor garden by placing planters on trays filled with wet pebbles. Alternatively, simply put a jar of water out with them.


In cold climates, be sure to close window treatments such as curtains or blinds at night so nearby plants stay warm.


If you're an Indoor Gardener who enjoys bulbs, you can force them to bloom early indoors. Try a more-or-less natural order of flowering (depending on variety you choose):

Crocus
Hyacinth
Narcissus
Daffodil
Tulip



February's usually a slow month for activity of any kind. The savvy Indoor Gardener uses this time to drag out the catalogs and magazines to plan this year's growth of your indoor garden. There are still a few chores on the Garden Calendar's winter list in addition to the regular attention your houseplants need.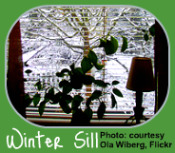 When you notice new growth on your houseplants, begin fertilizing at half-strength.


If you haven't cleaned all the leaves of your indoor garden, now's the time to do it. A sink or shower spray, or a damp cloth will get it done.


It's a good time to start cacti from seed if you didn't do it toward the end of January.


If you know other Indoor Gardeners, arrange for a plant and seed swap to break up the winter doldrums.
See what's in store for you and your houseplants
from March through May on the
Spring Garden Calendar.


Go from Winter Garden Calendar to Indoor Garden Calendar


Go to Indoor Gardener Home Page